Menno Lanting
Innovator, Author and speaker on innovation, technology, disruption, business models, organization 3.0 and leadership.
Category
Trends, Business & Management
Type
Expert | Thought leader, Business leader | Entrepeneur
Employability
Keynote speaker, Breakout session
Biography
Menno Lanting is regarded as the ultimate expert on the impact of digital technology on leadership, business and the way we work. He is a much sought-after speaker and consultant. More than 100,000 people have read his bestsellers Connect (Management Book of the Year 2011), Everybody
CEO (Longlist for Management Book of the Year 2012), The Smart Organisation (2013), Lead with a Tweet (2013), Oil tankers and Speedboats (2015) - interviewing 100 inspiring and innovative entrepreneurs and leaders all over the world, on their view of business, cooperation and leadership in the networking era - and The Disruption Paradox (2017)

The main theme of his oeuvre is 'adaptability': being able to transcend what you learnt during your training, or even what you built your career on, the business models you believed in, or how relevant you deemed your (public) organization to be and which you perhaps had thought would remain intact for decades to come. The goal is to raise yourself and the organization to the next level.

The world is changing: old laws and models are increasingly proving to be redundant, new ones are being developed on the go. Digital technology seems to make the world smaller and smaller, while all those connections simultaneously create ever more complexity.
Organizations we thought would remain relevant for decades, are crumbling before our very eyes. Nowadays, consumers and citizens are interconnected so well, that information, news and trends spread globally in the blink of an eye. This means organisations need to bring new products and services at an ever increasing speed. This calls for more innovation and smart organisations, and consequently more experiments.

The key requirements for innovation are the right people, the right technology and the right corporate culture. New types of organization will be born, but so too will our view of leadership change radically. Today's knowledge worker is more independent of organizations than ever before. This calls for the skill to work together virtually and the ability to showcase one's own skill and knowledge set through online networks. Leaders will no longer be appointed, but instead be chosen based on what they bring to their network.
Literature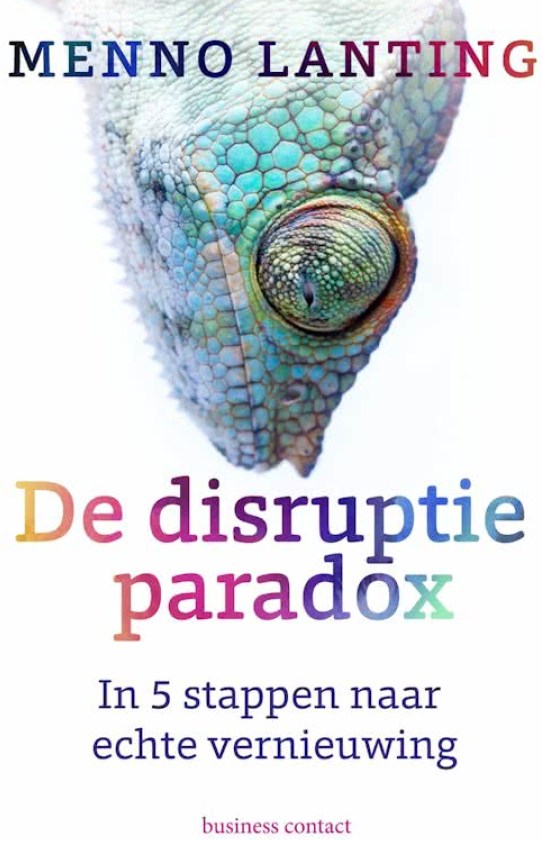 De disruptieparadox
Menno Lanting wijst je in zijn nieuwe bestseller 'De disruptieparadox' de weg naar echte innovatie.
Als bedrijven ten onder gaan, is dat maar zelden een direct gevolg van disruptie, oftewel van een innovatie die de bestaande markt compleet verdringt. De oorzaak is eerder dat organisaties lang niet altijd meer in staat zijn om op een onderscheidende en winstgevende manier te anticiperen op de snel veranderende behoeften van consumenten. En hierin zit de grote paradox voor de gevestigde partijen, want hoe ga je op een disruptieve manier een superieure klantbeleving realiseren als je daar in je huidige business al niet in slaagt?

Menno Lanting onderzocht het fenomeen disruptie en hoe organisaties ermee omgaan. 'De disruptieparadox' ontkracht de mythe van disruptie, schetst de verborgen paradoxen en geeft 5 stappen naar echte innovatie.
more info & reviews
Olietankers en speedboten
Speedboten zijn proactief, wendbaar, met de blik naar buiten gericht, verbonden in een netwerk, waarde toevoegend voor de consument, burger of collega en voortdurend lerend. Dit in tegenstelling tot professionals en organisaties die nog volharden in een manier van samenwerken en organiseren geworteld in het industriële tijdperk: de olietankers,' vertelde ik op een bijeenkomst voor hr-managers. Vanuit mijn ooghoek zag ik een van de aanwezige directeuren steeds fanatieker aan haar servet plukken. Uiteindelijk hield ze het niet meer: 'Maar Menno, ik zie ook wel wat van die ''speedboten'' in mijn organisatie, maar die zijn vooral op weg om ons bedrijf te verlaten! Wat doe ik straks met die heel grote grijze middenmoot, die niet vooruit te branden is en zich in verzet vastklampt aan vakbond en or?' Een diepe stilte daalde over ons neer.
Menno Lanting, bekend van de bestseller Connect!, ging op onderzoek uit om te
achterhalen hoe de toekomst van innovatie, organisaties en werk eruitziet. Hij
sprak met honderd inspirerende professionals en ondernemers over de hele wereld. Lanting vertaalt hun cases en ervaringen naar praktische tips en inzichten. Kijk de kunst af van organisaties als Airbnb, Audi, het wwf, Philips, de nasa en Netflix.
more info & reviews
De slimme organisatie
Mensen maken steeds beter gebruik van digitale technologie. Maar terwijl zij met behulp van hun netwerk het beste uit zichzelf halen, lukt het hun werkgevers vaak niet om dat potentieel ook in de organisatie te benutten. In dit boek laat Menno Lanting zien hoe bedrijven slimmer kunnen worden en hun cultuur en organisatie kunnen verbeteren met behulp van de nieuwste technologie. Met veel praktische tips en voorbeelden van onder meer NASA, Google en Philips laat hij zien wat je kunt doen: van virtuele teams en crowdsourcing tot serious games en feedbacksystemen.
more info & reviews